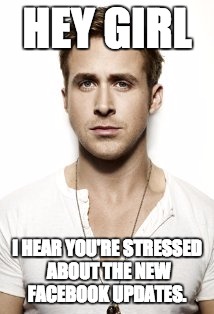 "Overall, we anticipate that this update may cause reach and referral traffic to decline for some Pages. The specific impact on your Page's distribution and other metrics may vary depending on the composition of your audience. For example, if a lot of your referral traffic is the result of people sharing your content and their friends liking and commenting on it, there will be less of an impact than if the majority of your traffic comes directly through Page posts. We encourage Pages to post things that their audience are likely to share with their friends. As always, Pages should refer to our publishing best practices."
– Lars Backstrom in a recent post on Facebook Newsroom: http://newsroom.fb.com/news/2016/06/news-feed-fyi-helping-make-sure-you-dont-miss-stories-from-friends/

There you have it – straight from the metaphorical Facebook horse's mouth. The new update will likely cause a decline in reach and referral traffic for pages. But, we're not worried. Here's why:

We've always said "social media is meant to be social". Meaning businesses and brands should be creating content people want to share – not just telling people to buy your product or come into your location. Keeping your content social, engaging, and sharable is now important for two reasons: One – the more your audience shares your posts, the more your audience will grow. Two – we believe that creating a relationship with your potential customers encourages sales, etc. more than directly asking your followers to buy ever will.
We've got a sneaking suspicion that at least part of the reason Facebook makes these changes is to please their shareholders. So, yes, that means that you've got to pay Facebook to keep your content visible. But, that's nothing new. We've been paying Facebook advertising dollars for a while now – long enough to tell you that Facebook is good at pleasing the brands that are paying them too. The combination of great content + targeted advertising dollars is a great recipe for success.